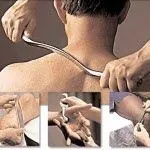 The Graston Technique
is an advanced form of instrument-assisted soft tissue mobilization that is:
--changing the way soft tissue injuries are treated
--preventing acute conditions from becoming chronic
--reversing the outcome on conditions once thought to be permanent
--substantiated by research.
Acute or chronic--the technique gets results. The Graston Technique is an excellent blueprint for treating and resolving soft tissue injuries, including repetitive stress diagnoses. Clinicians report improved outcomes, decreased number of treatments and reduced manual stress. The result: decreased pain and increased function.
Graston may be used for the treatment of acute or chronic:
--Cervical sprain/strain (neck pain)
--Lumbar sprain/strain (back pain)
--Carpal Tunnel Syndrome (wrist pain)
--Plantar Fasciitis (foot pain)
--Lateral Epicondylitis (tennis elbow)
--Medical Epicondylitis (golfer's elbow)
--Rotator Cuff Tendonitis (shoulder pain)
--Patellofemoral Disorders (knee pain)
--Achilles Tendonitis (ankle pain)
--Fibromyalgia
--Scar Tissue
--Shin Splints
--Trigger Points
Dr. Chuck Sidell has attained certification as a Graston Technique practitioner. Call today for an appointment to help resolve your soft tissue injuries using this unique technique.